Fighting in brother's memory, Ryan MacDonald remains undefeated with win at MCF14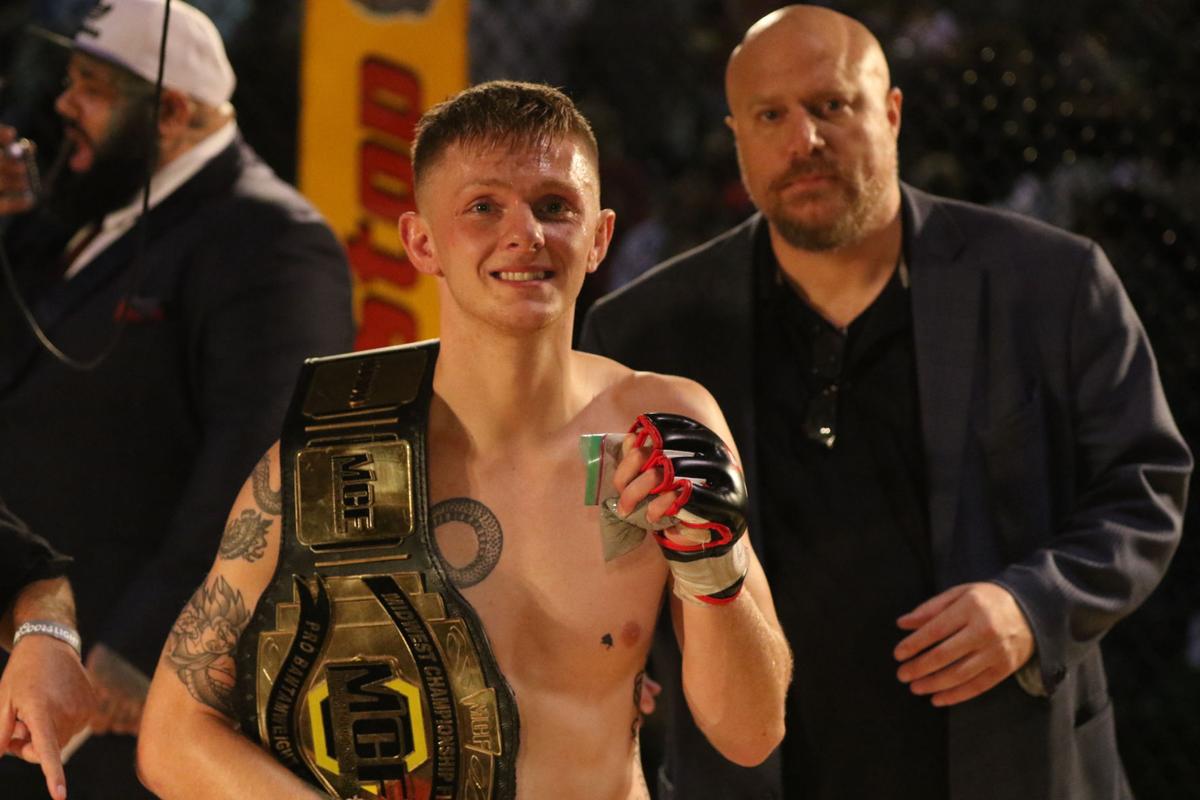 This was no ordinary postfight interview.
Ryan MacDonald, beloved by his hometown fans, poured his heart out Saturday at MCF14 after his second-round victory over Chad Obermiller to remain a perfect 8-0 as a professional.
Standing in the center of the octagon, an emotional and reflective MacDonald spoke of his late brother Kyle MacDonald, who tragically took his life in July.
Later, when ring announcer Profit Harmon asked MacDonald whom he wanted to fight next, MacDonald instead called his father, Scott MacDonald, carrying Kyle's ashes, into the octagon. The two shared a long embrace, drawing thunderous applause from the crowd at the D&N Center.
Just prior to the fight, as he prepared to walk out, MacDonald was laser-focused on the task ahead, but when his walkout song about suicide blared over the speakers, emotions altered.
"I had a pretty stone-cold approach walking into the fight, but when the song kicked on it triggered me pretty hard," MacDonald said. "All I could think about was my brother and how much he's done for me. That fueled me."
Early in the bout, Obermiller, fighting out of Hastings, tried to be the aggressor, gesturing multiple times for MacDonald to bring it.
Late in the first round, MacDonald started landing big shots, sparking a deafening "Ryan" chant from the crowd. Obermiller looked to be in trouble, but was saved by the bell.
Midway through the second round, the fight went to the ground when Obermiller shot in at MacDonald's knees. MacDonald soon gained top position and began unleashing a series of elbows and big right and left hands to Obermiller, who covered up, hoping again to be bailed out by the bell.
With about a minute left in the second and Obermiller on knees and elbows, MacDonald wailed away with a barrage of fists and elbows to the side of Obermiller's head and face. Several seconds later, Obermiller tapped the canvas, ending the fight to the delight of the delirious crowd.
Despite the brutal nature of MMA and some of the back-and-forth that goes on, the two fighters showed mutual respect, embracing and sharing a lengthy forehead-to-forehead conversation after the stoppage.
Postfight, MacDonald's thoughts went back to his brother.
"If he was here right now I'd say, I love you and I'm sorry for anything I ever did that could be considered mean, and that I wish I could spend another day with you," he said.
Then, fiercely loyal to his hometown of North Platte, the always gracious MacDonald took time to take photos with everyone who requested. The event, put on by North Platte attorney Russ Jones, raised awareness for suicide and was in memory of Kyle MacDonald.